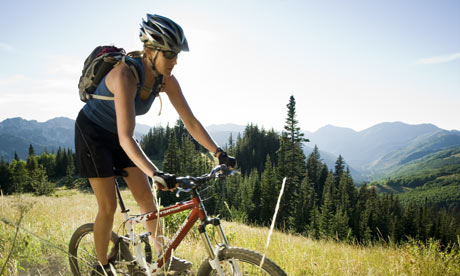 Branches scraped her legs as Kelly peddled her bike through the woods after detouring off the road. There had been a red Jeep following her for a few miles, driving slow enough not to pass her but keeping pace with her enough to give her the creeps.
She was traveling unfamiliar territory now, cutting through brush and weaving in and out of trees. Looking back for a brief moment she saw the Jeep stopped where she turned into the woods. Please Lord protect me from what I fear. Shepherd! I need you! She was remembering Much Afraid from her favorite book Hinds Feet for High Places. When she called out to the Shepherd, instantly He was there and her fears went away. Kelly called for this same Shepherd.
Coming to a clearing she slowed her pace, sat upright, inhaled deeply, and let the bike come to a rest. Looking around and listening, she took off her helmet, hung it on the handle bars, and got off the bike. Walking with one hand guiding the bike, she tried to recall the past couple of hours, wondering who could be in the red Jeep.
The only two places she stopped while on the bike ride were the country store back about ten miles and the train bridge about two miles back.
She stopped at the store to replace her empty water bottle and buy an energy bar which she would eat later. She recalled the cars in the parking lot and remembered most of the people in the store, but did not see a red Jeep there.
At the train bridge she stopped to eat and re-hydrate. She remembered seeing some people down below near the water's edge but no vehicles. With her eyes fixed in a blank stare she tried to recall every detail of that scene. Looking around in her mind, she panned the landscape but still nothing revealed the red Jeep. There was however  a loud noise she couldn't quite make out. Originally she thought it was the sound of a rock being thrown at the metal supports of the bridge but now she thought maybe it was a gunshot.
Maybe someone shot someone else and saw her looking. Maybe that someone drives a red Jeep and was coming after her. Her mind began to stir and panic began to set in. Lord, now I am really afraid. Where do I go? What do I do? Please help me. Keep me safe, I pray, In Jesus' name. Amen
Struggling between faith and fear she put her helmet back on and began to ride in the direction she was walking, away from the red Jeep. She had lost her bearings on where she was since she turned off from the winding road. Look for the sun she thought, it would at least tell her which way was east and west.
Remembering that she was riding north on the scenic route when she turned off the road to the right, she would be heading east. Since the sun was behind her, she confirmed the direction she was heading.
Heading back into more woods, Kelly saw that the path was clearly not meant for riding a bike. The path ran along the edge of a cliff. This was indeed a walking path for site seeing and she was in danger of slipping. The brush was thick with prickers on one side, the edge on the other side. With eyes glued to the path she kept riding.
"N....O....." she screamed as the gravel crumbled beneath her front tire, she leaned to the right in hopes of landing flat on the ground but gravity took her down the slope. Reaching for branches and clawing the earth;  the force of the fall was more than she could stop.
Flesh ripped open, rocks embedded in her skin, fingernails torn and bleeding, Kelly with her legs twisted in the mangled bike, lay stretched out on the side of the road.
A passer-by stopped immediately and offered help. He first checked if she was breathing and then if she was conscious. "Miss can you hear me?" Touching her face he asked again "Can you hear me, Miss?" He looked at her legs twisted in a pretzel shape and realized that the shock of the fall and the pain must have knocked her out.
He was an EMT and trained for this kind of thing. He began assessing her vitals and then maneuvered her out of the bike and laid her flat on her back. Surprisingly nothing seemed broken. With his medical bag open he began cleaning and bandaging the wounds. The ripped up leg would need lots of care to remove all of the rocks.
When he wiped her face with the swab, she opened her eyes and grimaced with the realization of intense pain coursing through her body.
"Hello. You took a nasty fall. How do you feel?"
"It hurts. My leg is burning and the pain is intense."
"Any pain here?" He asked as he pressed on her abdomen.
"No"
"How about here?" He continued pressing all over her torso to determine if there were internal damage. She reported no to every place he touched.
After assessing her injuries, he came to the conclusion that she had only suffered surface damage to her skin and her muscle in the right leg. Her fingers were not broken nor were there any cuts on her face. She was a lucky girl.
He told her his name and that he was an EMT in the town they were in. He offered her a ride to wherever she needed to go, whether to the hospital to get checked out or some place else.
"Where am I?" she asked, looking around.
After explaining their location and the need to get off the side of the road, she agreed to the ride. He helped her up and supported her as she stood. Turning around to head towards his vehicle she froze upon seeing it was the red Jeep.
"Why were you following me?" she demanded as she let go of his shoulder and released herself from his support.
He explained that when he drove up to the country store, there were people standing outside calling out to her as she rode away on her bike. When he asked what the problem was they informed him that she had dropped her ID and some money when she left the store. He offered to follow her until she stopped in a public place, as to not scare her.
He showed her his badge as he also worked for the police department and that is why the store clerk let him take her things. They trusted him to return her belongings to her.
"Why didn't you stop me at the train bridge? I stopped there to eat."
"I know you did, but at the time I heard someone screaming down by the water so I drove down to the fishing pier to check it out. It turned out to be kids just horsing around. When I got back up to the main road you had already started riding again."
"But why didn't you drive up next to me and tell me to stop?"
"I thought I stayed back far enough not startle you. I didn't want to scare you. When I saw you turn into the woods I couldn't imagine where you were going. So I circled the area until I spotted you."
"Well you did scare me by following me. I turned because I thought..."
"I'm sorry. I only meant to give these back to you." He handed her the money and her ID.
"Can you take me home please? I can't very well walk from here."
He helped her into the Jeep and put her mangled bike in the back.
Driving to the address she gave him, neither spoke another word.
Kelly heard a familiar song on the radio and realized he was listening to a Christian station. She turned to him and asked boldly "Are you a believer?"
With a great big smile on his face he replied "Indeed I am. Jesus is my Lord and Savior."
The lyrics caused Kelly to tear up as she thought about the Shepherd. She realized she had been lead by fear all through the woods. If she had only trusted God and carried on knowing that God would protect her in her travels, she might not have fallen off the cliff.
This man, David, the EMT, the police officer, the Christian, was an angel looking out for her after all. God never left her, she just took her eyes off of Him and let fear drag her down the rocky slope.
"I'm truly sorry I frightened you, can you forgive me?" David asked.
Lord, I am sorry I let fear drive me into the woods. Please forgive me for doubting you and wandering off. I love you Lord."
Peace settled over Kelly like a warm breeze. Looking over at David she said "If Jesus can forgive me for doubting Him, I can certainly forgive you."
They both smiled at each other and quietly sang along to the next song on the radio.